1 & 2 LUXURY BEDROOM RENTALS
Experience the epitome of luxury living at Aria Serene Living, London's newest and most prestigious rental residence.  Nestled on Main Fanshawe Park Road, Aria is an ideal place to live and work.  The four-storey building offers 1 and 2-bedroom suites ranging from 650 to over 1000 square feet, each adorned with the finest designer touches in spacious and impeccably finished suites.
Aria sets the standard for contemporary and modern living demands: it's a modern luxury in every sense of the word!  Join us today and see what all the hype is about!
STORAGE LOCKER RENTALS

PARKING
WELCOME TO ARIA'S MAIN LOBBY.  OUR DESIGN IS INSPIRED BY THE WARM EMBRACE OF SUNLIGHT, WITH A SPLASH OF MODERN, ELEGANCE, AND A DASH OF LUXURY.
VIEW OUR BUILDING UNIT LAYOUT IN THIS FLOORPLAN HANDOUT AND FOR MORE INFORMATION CONTACT OUR LEASING TEAM.
STORAGE UNITS AVAILABLE AT $100 PER MONTH
UNDERGROUND PARKING AVAILABLE AT $100 PER MONTH
THUNDERSTONE UNIT – 1 BED  / 1BATH
MONT BLANC UNIT – 2 BED / 2BATH
Westdell Development Corporation and Rogers have partnered to provide all the residents with a smarter living experience.
With the 1VALET Resident App, you can take control of your new smart community building like never before. Now you can experience a safe and smart living experience all in the palm of your hands.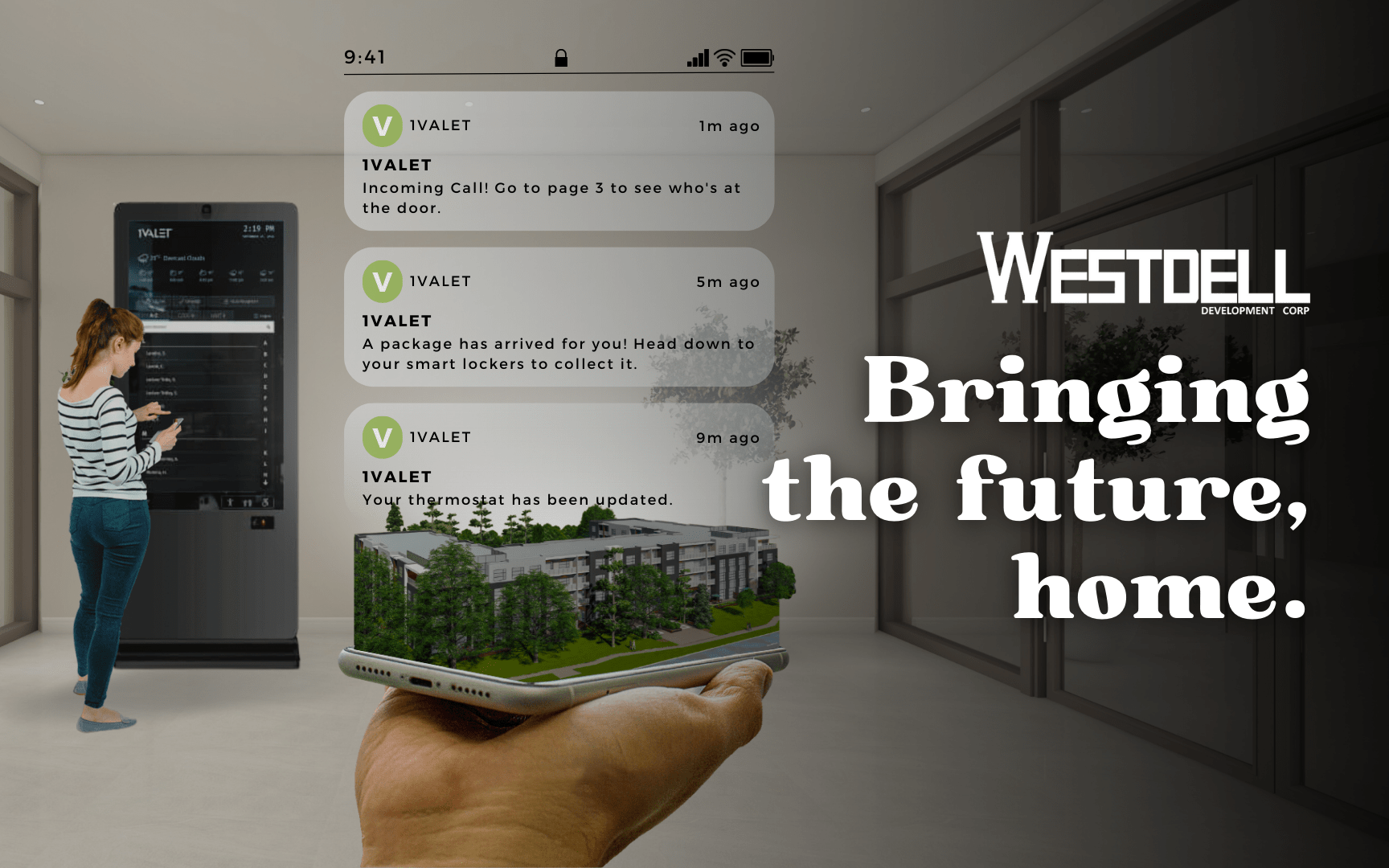 Aria Serene Living, located in North London, is the most desirable area to live in with easy access to shopping and restaurants.
MONDAY 9:00 am – 5:00 pm
TUESDAY 9:00 am – 5:00 pm
WEDNESDAY 9:00 am – 5:00 pm
THURSDAY 9:00 am – 5:00 pm
FRIDAY 9:00 am – 5:00 pm
Or feel free to Call or Email to book your appointment
Phone: 519-850-0000
Email:  [email protected]